YOU ASSUME YOU'RE PROTECTED WHEN YOU'RE NOT
Your computer is fully protected only when your security software is activated and up to date. In a recent poll, the National Cyber Security Alliance and software maker McAfee found that nearly half of their users thought their software was protecting them when in fact it had not been updated. Keep in mind that most Antivirus software bundled with a new computer (Trial) can expire within weeks.
How to protect yourself: Make sure your computer security is activated whenever you're online. Check to see if your software has been updated recently (within the past 2 days or so). If it's not, verify its automatic updating feature is enabled and that your subscription has not expired. TRY TO AVOID USING FREE ANTIVIRUS SOFTWARES, AS THESE WILL ONLY PROVIDE A BASIC LEVEL OF PROTECTION.
YOU ACCESS AN ACCOUNT THROUGH AN EMAIL LINK
Criminals can easily copy logos and other information from legitimate businesses' websites and place them in phishing emails or bogus websites. So while the email message from your financial institution may look official, you're still taking a risk if you access an account by clicking on an embedded web link. If the email is indeed fraudulent, a cyber thief could use the account number and password you enter to empty your bank account or to steal your identity.
How to protect yourself: Access a financial account only by using your existing browser bookmark or by typing in the institution's web address.
YOU USE THE SAME PASSWORD FOR ALL ONLINE ACCOUNTS
Still use the same password for all your accounts? It may be more convenient, but it's also risky. If someone manages to obtain your password, it means they can steal your money or your identity more easily by accessing all your online accounts.
How to protect yourself: Create different passwords for your various accounts. To make the process less cumbersome, consider using variations on one password. Experts advise that the well-crafted password uses a combination of at least eight letters, numbers or punctuation symbols.
DOWNLOADING FREE OR PIRATED "CRACKED" SOFTWARE
Free downloads can be hard to resist, especially for teenagers who are lured by cool screen savers or cute smiley faces. The trouble is that computer-clogging spyware is often packaged with free software.
How to protect yourself: Download freeware only from reputable sites (such as cnet.com and zdnet.com). Let your kids know the risks of downloading free software. (Virus, Spyware, Identity Theft, Stolen Passwords, etc).
ASSUMING YOUR MAC SHIELDS YOU FROM ALL RISKS
According to a recent State of the Net survey, Mac users fall prey to phishing scams at nearly the same rate as Windows users, yet far fewer protect themselves with an anti-phishing toolbar. The browser of choice for most Mac users, Apple's Safari, currently offers no phishing protection.
How to protect yourself: Mac users may want to consider using a browser with phishing protection, such as the latest version of Firefox or Opera.
YOU CLICK ON A POP-UP AD THAT SAYS YOUR PC IS INSECURE
Clicking on pop-ups (and it's easy to do so by mistake) can lead you to a spyware site, or worse, have malware automatically downloaded onto your computer. A Consumer Reports survey found that 13 per cent of people who tried to close a pop-up, ending up launching it instead.
How to protect yourself: To close a pop-up, carefully click on the X on the upper right or left corner, not inside the window. To avoid pop-ups altogether, enable your browser's pop-up blocker or use a free add-on blocker such as Google Toolbar.
NOT TAKING PRECAUTIONS WHEN SHOPPING ONLINE
Online shopping requires special precautions since you need to disclose more personal information (such as your home address) to the retailer. Cyber crooks can sneak in undetected between you and the retail site. (See Tips for shopping safely online.)
How to protect yourself: Designate a separate credit card just for your Internet shopping so you can keep track of purchases more easily. Look for sites that display ''https'' before their address when you're entering sensitive information and those displaying certification symbols from TRUSTe and other organizations. When in doubt, ask your credit card company about getting a virtual account number that's good for only one purchase from a specific vendor.

Peace of Mind Care
Have peace of mind knowing that your computers and networks are secure, running at peak performance, and are system error and threat free.
Monthly, quarterly, Semi-annually or one-time yearly plans are available!
Email service@bennettconsulting.ca and book your appointment today!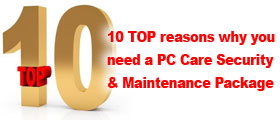 Click here to view TOP 10 reasons!
System slow or hangs at Startup

System slow or hangs at Shutdown

Error Messages

System randomly Restarts or Shuts Down on it's own

Expired or No Anti-Virus / Anti-Spyware Program

Invalid Copy of Windows Message

Internet Pop-Ups / Website Redirection

Internet Pages take a very long time to load

Constant Junk Emails / SPAM

System Noises – Clicking / Grinding / Loud Fans

If you are experiencing any of these issues, inquire about our PC Care Security and Maintenance Packages.